HD4112-ATSC Quad HD MPEG2 ATSC Modulators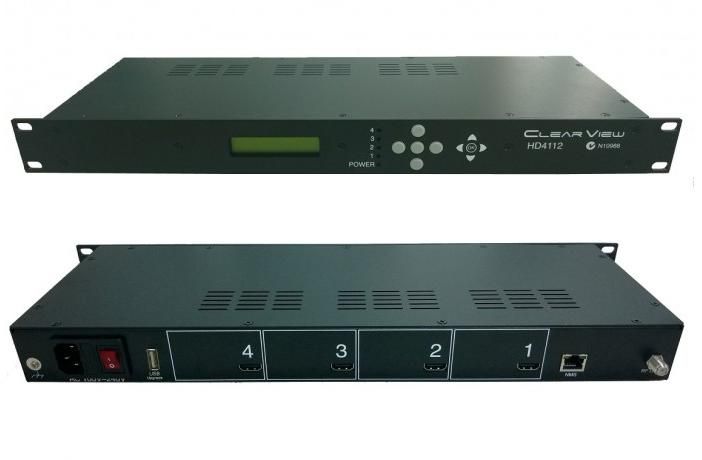 Business Type
Manufacturer, Supplier
Dimensions
483 x 203 x 45 cm
Weight
1.3kg
Power supply
AC 100 to 240V
Click to view more
Product Details
Operation temperature
0 to 50 degrees C
Type
1080p with 4 x HDMI in and 4 x RF carriers out
Encoding - Video(HDMI)
MPEG2
Interface - Video(HDMI)
HDM1 x 4 (Type A receptacle)
Resolution - Video(HDMI)
1920 x1080_30p
Aspect Ratio - Video(HDMI)
4:3 ; 16:9
Encoding - Audio(HDMI)
MPEG-1 Layer II
Interface - Audio(HDMI)
HDM1 x 4
Sample rate - Audio(HDMI)
48KHz , 44.1KHz or under
Output level
70 to102 dBuV
Local interface
LCD+Control button
Remote management
Web NMS
Standard
ATSC /QAM Annex B
Constellation
8VSB for ATSC; 64/256QAM for Annex B
Basic Adjustment
LCN, Key ID/ Service Name/Minor/Major Channel
Advannced Adjustment
Video & Audio/ SID / PMT, VPID, APID/ NIT, ONID/ PDS/ TS ID/ RF output attenuation
Frequency Range
50 to 950 MHz 4 x RF Carriers Out MHz
Sample Price
$US790 with freight
6 Sets Price
$US690 + freight in stock
54 Sets Price
$us650 + Freight 45 Days Delivery
User Manual

View
This HD Encoder Modulator supports
4 HDMI inputs, and 1 F (4 RF) female output .
After encoding and modulation, the input signal appears
on 4 x ATSC RF carriers at the RF output.
It can be widely used in security, MATV, home
entertainment, protection monitoring, hotel LCD panels,
 shopping mall advertising etc..
This unit is for North America, Mexico and Canada
Looking for "
HD4112-ATSC Quad HD MPEG2 ATSC Modulators

" ?